Sam's Presentation – USGIF's Innovative Tradecraft Competition
This second part of our week at GEOINT started a few months ago. Over the summer, we came across the release of the application for the second annual Innovative Tradecraft Competition. This year's competition came with an additional challenge: predict a crisis leveraging geospatial data and capabilities. We were immediately hooked. We had already been leveraging geospatial data and our activity-based intelligence skill set in order to predict outbreaks of COVID-19 in Connecticut. So, we put together a presentation and sent our Junior Spatial Data Analyst, Samantha Leung, to USGIF's new Trajectory Event Center to share our Data Pandemos project.
The Data Pandemos Dashboard highlights the way that mobile device location data can be aggregated to predict when and where future outbreaks of COVID-19 will occur, without violating any individual privacy rights. We call these, Contact Metrics, because they measure "contact" between two devices (and subsequently people). Contact is the key driver of disease transmission and gives decision makers the time they need to act preventatively. If you'd like some more, in-depth information on how we got to and use Contact Metrics, take a look at our paper.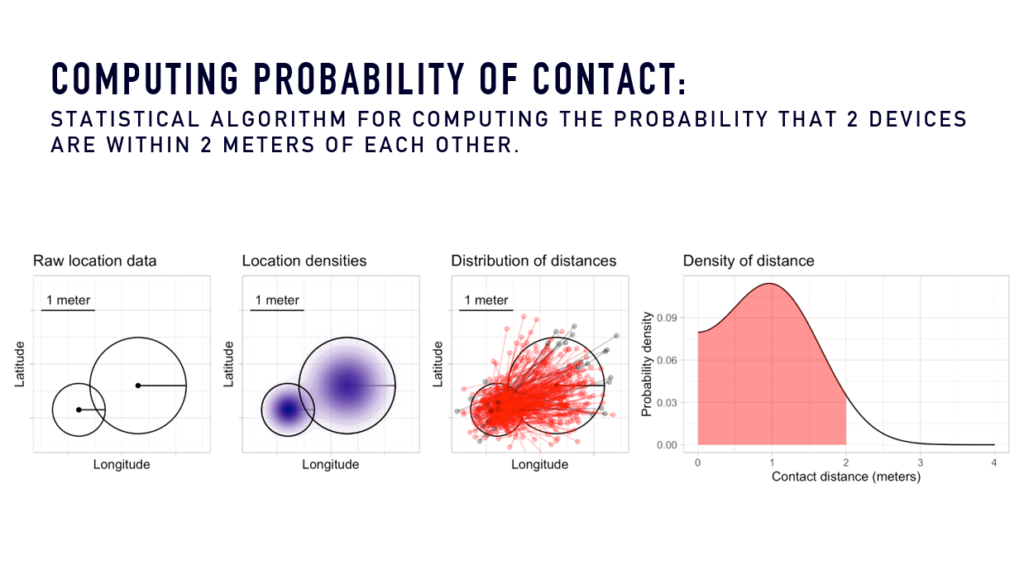 Successful in becoming a finalist during Round 1, Samantha had the opportunity to present our project on the Main Stage. The competition was tight. Kate Zimmerman, senior manager at Amazon Web Services, presented on the Amazon ML Solutions Lab and HawkEye360 partnership project. Together they used machine learning to create an algorithm that could analyze satellite data in order to better identify law-breaking vessels at sea. Edgybees's CEO, Adam Kaplan, explained how the company utilized their gaming capabilities to overlay augmented reality on to aerial footage. This software allows firefighters, rescue teams, and other first responders to track wildfire spread and allocate resources appropriately. Finally, Nateé Johnson, a senior consultant and data scientist at Guidehouse, showcased her team's ability to identify at-risk fisheries using machine learning and geospatial intelligence. The Guidehouse project could be a crucial tool to mitigate the detrimental effects of overfishing on our global food supply.
The 3,000 GEOINT attendees voted based on the following criteria:
"Problem to be solved" is explicitly identified
Presenter effectively connects the value proposition with the audience
Presentation is creative, fostering a teachable moment
Solution represents a unique or novel approach
Solution effectively identifies, mitigates, and/or eliminates bias within the approach
Presentation design is clear and consistent
Degree of reproducibility of the solution
Use of at least one OGC standards-compliant dataset
Output delivered to the web in standardized form (e.g., using an OGC API), to ensure output can be broadly consumed
With the votes casted and tallied, USGIF's CEO, Ronda Schrenk, announced that Whitespace has clinched the win by a narrow 5 votes. We are so grateful to USGIF for the opportunity to present our work. If you'd like to see where our Activity Insights are headed next, check out our Aggregated Metrics project.
Continue reading about our week in St. Louis here.