Jackie Barbieri • August 11, 2023
The UN has stated that crime on the high seas is becoming increasingly sophisticated. Maritime crimes, like illicit grain smuggling, can be difficult to track because vessels involved in nefarious activities often turn off their Automatic Identification Systems (AIS) transponders to conceal their movements. However, there are also legitimate reasons that ships turn off their AIS, so "dark" movements do not always equal illicit activity.
So, how can these sophisticated criminals be stopped? Can this dark activity be brought to light?
We wondered if we could leverage our technology to illuminate this kind of dark activity. News reporting had identified various data sources (e.g., AIS, Radio Frequency (RF), and Satellite imagery) being used to help track vessels involved in illicit activity. We wanted to gain better coverage of all vessels by stitching together different datasets and applying our unique method of Activity-Based Intelligence (ABI) analysis.
To tackle this challenge, Whitespace collaborated with Northrop Grumman (NG) as part of their Tech Scouting Program. Our project idea came after spending the summer of 2022 watching news of Russia's invasion of Ukraine and the added concerns of illicit grain smuggling.
We began a comprehensive evaluation of multiple types and commercial sources of data in the Black Sea region, knowing that no single source of data would be enough to gain true insight. We selected a combination of sources that gave us the greatest coverage, settled on our proprietary mix, and got straight to work on the "boat math" needed to make it work.
The boat math process started by identifying what normal patterns of activity looked like in the Black Sea (ports of interest, most utilized routes, etc.). From there, we created algorithms that detect vessels while they are actively transmitting AIS and when they are dark (not transmitting AIS). We dug further into these activity patterns to understand more about dark voyages at scale.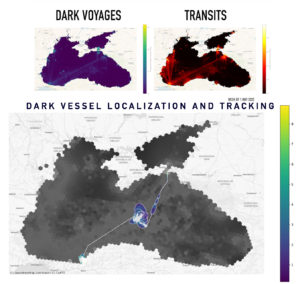 We discovered that our technology can enhance detection of dark voyages and accurately predict where dark vessels will travel and when they will arrive at their destinations. We see these capabilities as being most applicable in the C4ISR space.
At a regional or global level, our technology can:
Characterize shipping patterns,
Identify shipping lanes, and
Typify dark activity.
At an individual ship level, this technology can:
Predict probable ship location at a specified future time (shown above), and
Predict ship arrival time at port.
Through historical data, we can also:
Summarize vessel pattern of life: ports visited, journeys taken, loitering times, and locations,
Find associated vessels through co-loitering and co-traveling events,
Find associated entities,
Generate a network analysis of associated devices and vessels, and
Illuminate dark journeys and characterize them as normal or anomalous.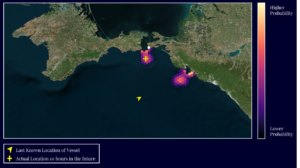 We want to help you enhance your C4ISR program. Contact us today to discuss partnership.